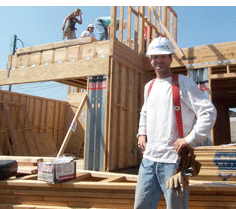 Founder, CEO, project manager
Jon Ross has a degree in Urban Studies and Economics from Columbia University, has been trained by the Red Cross in disaster response and evaluation, and has a certificate of construction skills from Habitat for Humanity, where he worked for many years as a regular volunteer in Los Angeles.
​
For twenty years, while working in commercial production, Jon served as president of the Los Angeles chapter of the Achilles Track Club, a non-profit for people with disabilities. As an unpaid volunteer, he ran the programs, guided blind runners in marathons, trained the volunteers, and did the fundraising and PR. During his tenure, he was a regular speaker for groups such as the Crippled Children's Society, the Muscular Dystrophy Association, and the Braille Institute, and was honored for his work by KNBC-TV, KNX- News Radio, and The Los Angeles Times.
​
Jon has also led travel groups to Pakistan, Uzbekistan, Ethiopia, and Western China, and has worked in Thailand, Kenya, and Costa Rica. In 2002, Norwegian Cruise Line hired him to spend a week on a remote Pacific island doing anthropological and sociological research for the book, "Fanning Island: Republic of Kiribati." After the tsunami devastated the coastal regions in the Indian Ocean in 2004, Jon was commissioned by a financial firm in New York City to assess the damage and needs in Sri Lanka. The goal was to identify a specific village where the company could help the local population on a grass-roots level. Working on this project planted the seed for MicroAid International—which he founded in 2009 and started disaster-recovery work in 2010.
In-country project manager, Nepal
Nabina was born and raised in the ancient Nepalese capital of Bhaktapur in the Kathamandu Valley, and studied finance and accounting. When the Gorkha earthquake struck in 2015 her family's house was severely damaged and she helped oversee some of its repair. After meeting Jon Ross in 2016 while he was starting a home reconstruction project, Nabina was hired to be his interpreter and assistant project manager. After that job and more training, Nabina was ready to take on the role of MicroAid's in-country project manager for Nepal in 2017.
Please reload
BOARD OF DIRECTORS:
Jon Ross (Founder, chairman, and CEO)
New York, NY
​
D. Leslie Winter (Secretary and treasurer)
New York, NY
​
Nadia Block (Nonprofit Management Consultant/Artist)
Brooklyn, NY
​
John Bonomi (Partner and Associate General Counsel, Deloitte)
New York, NY
​
Rico Williams (Real Estate Executive)
New York, NY
​
​
BOARD OF ADVISORS
​
A network of international advisors helps MicroAid narrow its focus and fulfill its mission. Comprised of other relief and recovery professionals, local contacts, and construction and travel professionals, this group funnels specific information about world crises and helps direct MicroAid to those in need. MicroAid has advisors in the U.S., the U.K., Nepal, Peru, the Philippines, Myanmar, Samoa, Paraguay, Singapore, India, and Sri Lanka.
To help achieve its objectives, MicroAid consults with our contacts at Plan International and USAID, as well as other NGOs such as Red Cross, Operation USA, World Vision, Direct Relief International, Habitat for Humanity, Peace Corps, Save the Children, CARE, and local Voluntary Organizations Active in Disaster (VOADs), civic organizations, social service agencies, community foundations, health agencies, and long-term recovery committees.